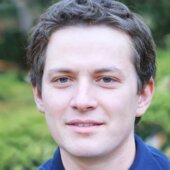 Mark Nelson
Psychic & Astrology Advisor
I cannot say that my psychic medium journey began like a fairy tale. Like every child who witnessed the death of a close family member, I was devastated. Being only 11, I lost my father, who died in a car crash. It was a time of grief. However, such a fate shift was also the beginning of a new stage of life because I discovered I had psychic abilities. Thus, I could receive messages from my dead father and grandpa, who also guided me on my psychic reading path. 
Over the following years, I have been developing clairvoyance powers to master my skills in seeing and hearing spirits from the otherworldly realm. I also got a degree in psychology and sociology to use the gained knowledge to analyze my clients and their vibrations, which helps to establish a connection with their significant ones. 
I believe that our relatives and friends always navigate us: their spirits always accompany and help us make the right decisions or uncover secrets that can shed light on the most complicated problems. 
Thus, I have helped a vast number of people to receive messages from their beloved ones.
However, I implement my knowledge not only in psychic medium readings. I decided that sharing insights on spiritual topics through the text is also an excellent way to navigate others. That's why I joined PositivelyPsychic.com as a regular article writer. Although my portfolio of works for the website is not very extensive, I hope you will find a lot of insights on clairvoyance and psychic mediumship issues in them.